The subject matter of the films was imposed by numerous questions addressed to the trainers of the Prosalon Professional Academy. Most of them are always related to coloring and lightening, but hairdressers also often ask about care. That's why Marina Zaikovskaya showed how to make two creative colors - marble blonde and a unicorn tail. Then we worked on showing the effects of multi-stage treatments: Protein Therapy rebuilding the hair structure and Botox Therapy rejuvenating hair, which can be performed using the cold and hot method.
The longest and most complex procedure was the process of decolorization - getting out of the black color. Such a difficult procedure naturally had to be carried out without damaging the model's hair. 14 hours of work with various brighteners, oxidants and Color Art paints resulted in a cool, cool shade of brown. See how we coped - watch videos on our Chantal channel.
Other recommended articles: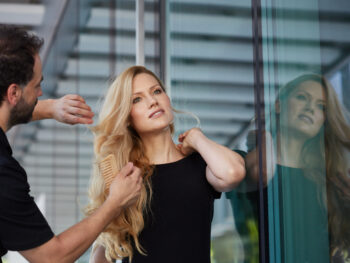 WYŻSZY POZIOM PIELĘGNACJI
Kiedy chodzimy do fryzjera czy kosmetyczki rzadko pytamy o markę produktu użytego do zabiegów. Ale za to po wyjściu albo chętnie zerkamy w każde lusterko, albo mówimy sobie "już nigdy tu nie wrócę" Odpowiedzialnością za efekt całkowicie obarczamy profesjonalistę wykonującego usługę. Właściciele salonów doskonale o tym wiedzą, dlatego starannie dobierają produkty, na jakich pracują, zapewniając swoim klientkom wyższy poziom pielęgnacji.