The Prosalon Professional Academy is also involved in training for our distributors outside the country. Last weekend, the trainer Marina Zaikovskaya conducted two-day training for hairdressers in the Netherlands. The subject of the training were different shades of blonde that can be obtained with Color Art products and treatments for damaged hair using Prosalon Professional products.
The trainings were carried out in the workshop formula. Hairdressers participating in training first learned the theory and then, under the supervision of the trainer, they carried out the coloring and beauty treatments themselves. The Academy team trained and issued certificates for hairdressers from about 30 hairdressing salons.
Other recommended articles: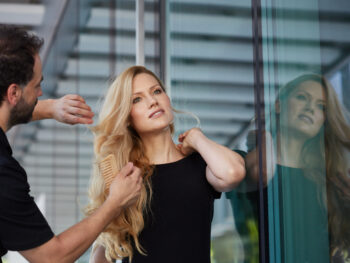 WYŻSZY POZIOM PIELĘGNACJI
Kiedy chodzimy do fryzjera czy kosmetyczki rzadko pytamy o markę produktu użytego do zabiegów. Ale za to po wyjściu albo chętnie zerkamy w każde lusterko, albo mówimy sobie "już nigdy tu nie wrócę" Odpowiedzialnością za efekt całkowicie obarczamy profesjonalistę wykonującego usługę. Właściciele salonów doskonale o tym wiedzą, dlatego starannie dobierają produkty, na jakich pracują, zapewniając swoim klientkom wyższy poziom pielęgnacji.